53 Ways To Savor The Art Of Coffee – A Recipe Book For Coffee Lovers: Simple Unique Recipes, Tips, & Techniques
Attention coffee lovers! Are you tired of the same old cup of joe every morning? Do you crave something new and exciting to spice up your daily coffee routine? Look no further than "53 Ways to Savor the Art of Coffee" – the ultimate recipe book for coffee enthusiasts!
From The Founders Of ECoffeeFinder.com, this Kindle book is packed with simple yet unique recipes that will tantalize your taste buds and make you fall in love with coffee all over again. From classic favorites like lattes and cappuccinos to innovative new creations like iced coffee popsicles and coffee-infused cocktails, this book has something for everyone.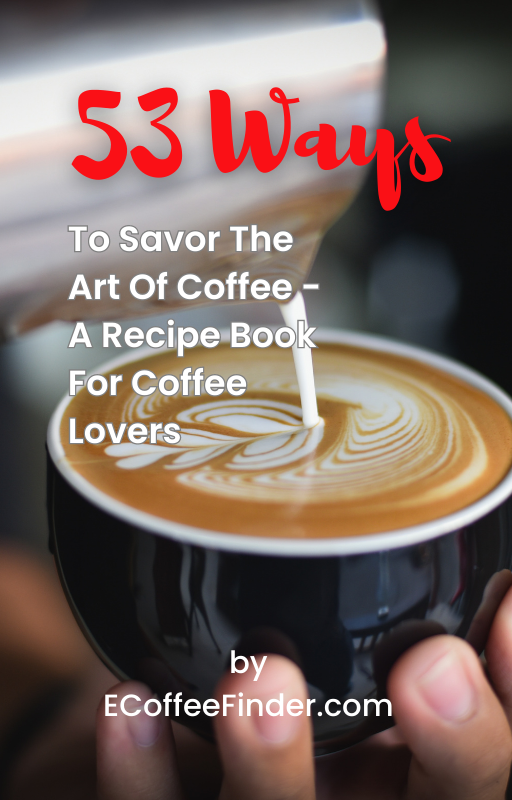 But it's not just about the recipes – "53 Ways to Savor the Art of Coffee" also includes expert tips and techniques to help you master the art of brewing the perfect cup. Learn how to properly grind your beans, choose the right brewing method for your tastes, and create latte art like a pro.
Here is what's inside:
Chapter 1: Introduction to Coffee Recipes
Chapter 2: Classic Coffee Recipes
Chapter 3: Latte Recipes
Chapter 4: Mocha Recipes
Chapter 5: Unique Coffee Pairings
Chapter 6: Sweet Coffee Recipes
Chapter 7: Coffee Recipes for Breakfast
Chapter 8: Coffee Recipes for Desserts
Chapter 9: Coffee Recipes for the Office
Chapter 10: Coffee Recipes for the Road
Chapter 11: Final Thoughts
So whether you're a seasoned barista or just starting to explore the world of coffee, "53 Ways to Savor the Art of Coffee" is the perfect companion to help you elevate your coffee game. Get your copy today and start savoring the art of coffee!