The best coffee machine in the range of $1,000 to $2,500 returned three top selections. "We must admit we truly love them all!"
So, if you looking to give someone a coffee maker for the holiday season we have three best top options to recommend.
First off, when making a choice consider the purpose of a coffee machine and how it will serve the future owner. Let's get into the exact fundamentals of a really great coffee maker.
Everyone is always looking for the best coffee machine. Let's first consider what purpose your coffee machine will serve.
A coffee machine is actually a cooking appliance, so it lives in the kitchen. Its sole purpose is to brew coffee, in the mornings, after dinner, and anytime demand is needed. There are numerous different kinds of coffee machines and each also has different brewing principles.
This article contains affiliate links and when you make purchases linking from our site there is never any extra charge to you and we receive a small commission, thank you.
So essentially a coffee machine is a lot like a car, while all cars produce the same results for transportation destinations. Preferences and purposes can be very different. "A coffee machine gives an individual experience."
Coffee Brewing History
For hundreds of years, making a cup of coffee was a simple process. Roasted and ground coffee beans were placed in a pot or pan, to which hot water was added, followed by attachment of a lid to commence the infusion process. Pots were designed specifically for brewing coffee, all with the purpose of trying to trap the coffee grounds before the coffee is poured. Typical designs feature a pot with a flat expanded bottom to catch sinking grounds and a sharp pour spout that traps the floating grinds. Other designs feature a wide bulge in the middle of the pot to catch grounds when coffee is poured.
Best Coffee Machine In Range of $1,000 to $2,500
Today a coffee machine can be customized to match a person's lifestyle. Making the choices in the $1,000 to $2,500 range an ultra kitchen appliance and a coffee experience lifestyle.
Here are the three top options for best coffee machines ranging from $1,000 to $2,500 that also make amazing holiday gift options especially for Christmas gifts to coffee lovers.
Miele CM6350 Fully Automatic Espresso Machine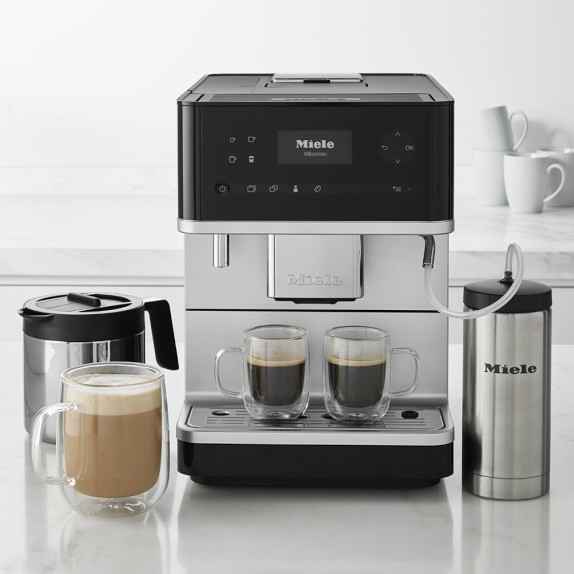 This Miele CM6350 is brilliantly engineered for ultimate convenience, with a menu of café-style coffee drinks at your fingertips and simple digital controls to tailor each cup to your exact preferences. In addition to making barista-quality espresso, cappuccino, latte macchiato, and caffè latte, you can now make an entire pot of coffee – up to 8 cups – with the simple press of a button (the carafe pictured is sold separately). Price Range $2,299.95
Saeco Pico Baristo with Carafe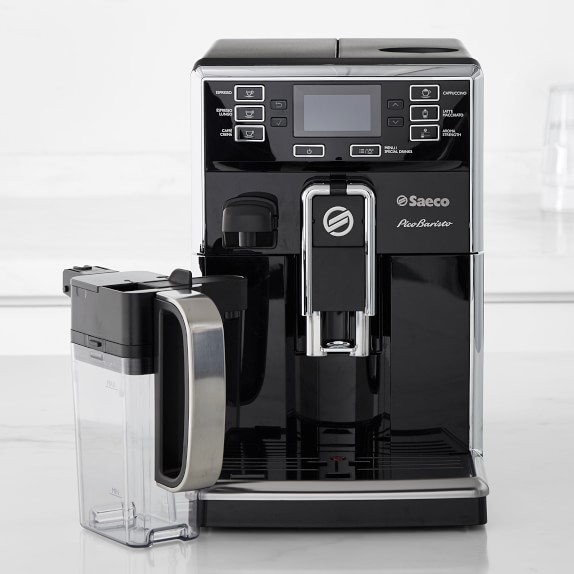 This PicoBaristo offers the largest variety of coffee beverages available in a compact automatic espresso machine. Select from 11 different drinks, including easy one-touch espresso and milk-frothed cappuccinos and lattes. Which the new AquaClean water filter greatly reduces the need for descaling for 5,000 cups. Price range $1,999.95 Special Price $1,399.95*
Miele CM6150 Fully Automatic Espresso Machine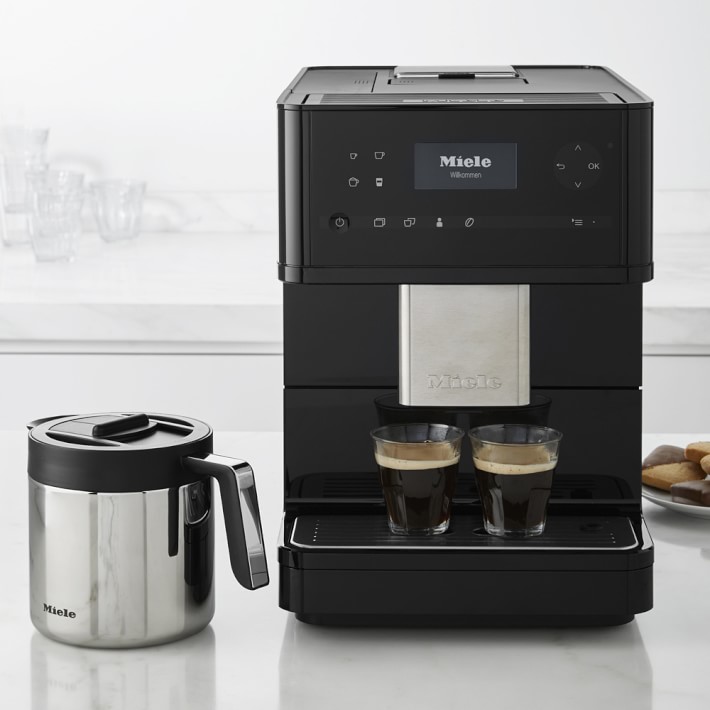 The Miele CM6150 is a sister to the Miele CM6350 makes it super easy to order up a one-touch latte or cappuccino in your own kitchen – single or double size, as strong as you like it! Price Range $1,799.95
All prices are subject to change or update.
Tags:
Best Coffee Machine
You may also like this